From BlueNight.com
I like it when a record surprises me, and such is the case with Hey Hey, the new disc from Markey Blue. I haven't heard a good Memphis style, horn-driven disc in awhile and bandleaders Jeanette Markey and Ric Lantana have crafted a good one. Let's give it a spin.
We open with "When Love Comes Along (Hey Hey)," and the horns jump in at the downbeat and away we go. We don't always know when someone enters our journey to share their love with us. But when they do, let them in, and as Markey sings, "It's going to hit you when love comes along, hey hey." Ric's fretwork is deadly and the horns bring a passion to the mix that is highly satisfying. Ric's guitar provides the intro for our next tune, "I Can't Let You Go" and Markey's lamenting the loss of a love in her life. "You told me…heart to heart…soul to soul…my lips on yours would never grow cold…but you're gone…and I'm all alone…but I can't…can't let you go." Sadly for Markey he moved on and the pain of her loss is very real.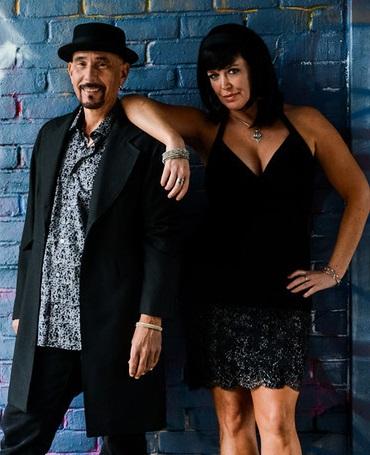 The next cut, "Something's Wrong," finds Markey realizing that all is not right in her world. "Something's going on….oh, something's wrong with my man…I thought I had a good man…I thought I had a man I could trust…oh, baby…there ain't going to be no more us." He evidently has a wandering eye and Markey will have none of it. Our theme of sadness finds Markey alone again and reflecting on it in "Feeling Blue." "Lying here by myself…tears falling down like rain…whiskey bottle…it ain't helping me feel no pain…same old sad song…rolling me back over you…feels like stormy weather…and I can't help this feeling…there ain't no one else to blame…I just can't help…feeling blue." He's gone and Markey to her benefit is realizing her culpability in the end of her relationship with this man and the resultant void in her life.
We move on to "Flames" and find Markey's sending out mixed messages to the man interested in her. "The flames go higher…and higher…filling me with desire…spinning me….round and around." Markey's finding herself lost in the whirlwind of this love and definitely not in control of the emotions it's inspiring. A light touch on the snare and finger snaps lead us into the next tune, "Play Me," and the horns are back. Markey's love has a house of his own and she's definitely wanting him back in hers, "you don't really love me…ooh, you don't feel the same…touch me honey…the way you did back then…tell me all your pretty lies…and do it once again…play me one more time non prescription viagra."
"Another Lover" finds Markey realizing the man in her life was never serious and the time for a change is at hand. "Before you say another word…boy, I'm telling you goodbye…your good thing's gone now, baby…go watch me fly…going to find me…another lover." It's not always easy being the strong one in a relationship and Markey appreciates the fact that she's the source of support in "With You." "Oh, I'll be there, honey…I'm going to see you through." He's lucky to have the support and love of a good woman to lean on and hopefully appreciates Markey for the love she's giving him. Our next cut, "Voodoo Do," definitely has that deep woods mysticism to it. "Why are you haunting me baby…what do your voodoo…do?" Markey's in love with a mystery man and its possible that all is not what it seems to be.
Another haunting melody provides the intro for our next tune, "Ain't No Angel," and Markey's not pretending to be anything other than what she is. "You bring me roses…you bring me wine…but what I want…you just can't find…take me as I am…I ain't no angel." Markey's bad side is coming out and either he'll be able to handle it or he won't. "By My Side" leads to a return of Markey's gentler side. "Nobody says…it was easy…if I say…goodbye…now I'm asking…Lord, all I asking, baby…is that you'll be…by my side." She's going through a rough patch but Markey loves her man and hopefully he'll answer her plea to stay by her side. Ric's guitar solo lends just the right amount of hopefulness to Markey's voice and the horns are just amazing.
The group closes out what has been an excellent record with another song of sadness in "Baby, I'm Cryin'." I'm not sure why he chose to leave but it's painfully obvious that Markey wanted him to stay. "Baby, I'm crying…baby, I'm crying….again." Her pain is real and the gloominess of a rainy day isn't helping Markey feel any better about the pain she's experiencing.
There's a "who's who" of Nashville area players who lent their talents to Hey Hey by Markey Blue and that speaks to the city's appreciation of their talents. Thanks for bring back that old school Memphis Stax and Hi-Records sound. Kudos to Jeanette and Rick for their musical vision for this disc and the talented songwriting and arranging that it showcases. I'm looking forward to hearing more great music from this band for a long time to come. Grab this disc. It's definitely a treat.
– Kyle Deibler